About the Dental Laboratory Technology Program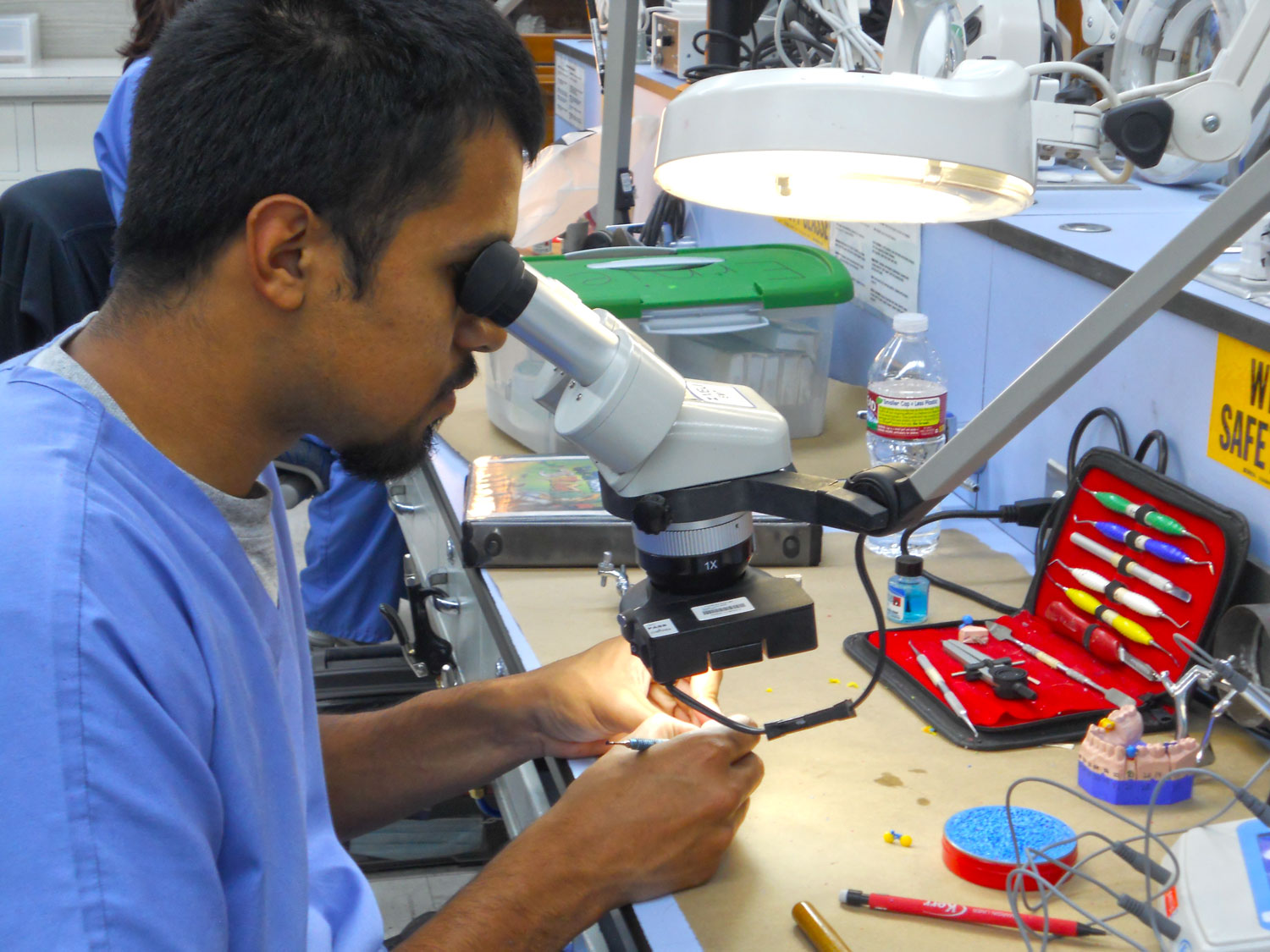 Mission Statement
The mission of the Restorative Dental Technology Program in offering its Certificate of Achievement is to provide a high-quality, academically and technically rigorous curriculum, a state-of-the-art laboratory facility, learning activities and laboratory projects carefully designed to prepare students for successful attainment of a Certificate of Achievement in Restorative Dental Technology and employment in a dental laboratory after the completion of a two-year curriculum.
The Restorative Dental Technology Program is committed to creating a stimulating educational environment that will develop Dental Technologists who are capable of critical thinking, problem solving, and decision-making. The Program is dedicated to cultivating and demonstrating multicultural and special needs sensitivity towards its students. The American Dental Association Commission on Dental Accreditation (CODA) has nationally accredited the Restorative Dental Technology Program since 1967; the Program will continue to meet or exceed CODA standards. The Program will prepare graduates eligible to become Certified Dental Technician (CDT) by taking the National Board for Certification written and practical examinations. Furthermore, the Program pledges to work under the guidance of its Restorative Dentistry Advisory Committee to assure that it continues to offer dynamic restorative dental curriculum that produces qualified and competent restorative technologists who will have a sound foundation enabling them to adapt quickly to changing technology.
---
Program Description
The Certificate of Achievement in Restorative Dental Technology, is fully accredited by the Commission on Dental Accreditation (CODA) of the American Dental Association (ADA), a specialized accrediting body recognized by the United States Department of Education. The Restorative Dentistry Department is also a member of the National Association of Dental Laboratories (NADL).
Upon successful completion of the curriculum, a student is eligible to take the Recognized Graduate Certified Dental Technician Examination administered by the National Board for Certification of Dental Laboratory Technicians. A Certificate of Achievement is awarded by Pasadena City College upon completion of all required courses with a grade of "C" or better. The student must petition for the Certificate of Achievement.
The curriculum the student for employment in a private or commercial dental laboratory or dental office performing laboratory techniques and procedures. Emphasis is on the fundamental laboratory procedures including all six specialized areas: dentures, crown and fixed partial dentures, ceramics, removable partial dentures, implants, and orthodontics and pedodontics.
Studies also include advanced instruction in all specialties. Students have the option of obtaining their Associate in Science Degree majoring in Health Sciences. However, interested students must work directly with a college counselor who will assist them in developing a Student Educational Plan that will include the additional general education requirements for the Associate Degree.
---
Program Costs
Cost of textbooks and syllabi, uniform, student health fee, for the entire two-year program will total approximately $3,500.
---
Program Goals
The Restorative Dental Technology Program serves its students by:
Providing access and support to a challenging learning environment, consistent with dental industry standards and technological advancements.
Promoting student success that supports academic achievement, technical skills, critical thinking, and work force readiness.
Comprehensively preparing competent individuals as defined by industry standards to enter Restorative Dental Technology careers.
Instilling personal and professional behaviors that address ethical values, communication skills and social responsibilities.
Fostering faculty and students to be life long learners that are self reflective of skills and abilities.
Sustaining a diverse curriculum enriched with appreciation for multicultural opportunities and community partnerships.
---
Student Learning Outcomes
The Restorative Dental Technology Program will prepare students who, upon completing the Program, will be assessed on their ability to::
Demonstrate competence in performing basic and advanced level laboratory procedures and techniques required to design and fabricate fixed and removable dental prostheses and basic orthodontic appliances appropriate for an entry-level restorative dental technologist as verified by skills and knowledge specified in the American Dental Association (ADA) Commission on Dental Accreditation (CODA) Standards for Dental Laboratory Technology.
Apply basic knowledge of physical properties, uses and manipulation of dental materials to ensure proper materials are used in correct proportions for specific restorative procedures and that appropriate safety and disposal procedures are followed.
Design and fabricate fixed and removable dental prostheses that follow appropriate tooth form and function and take into consideration structures of the oral cavity, determinants of occlusal morphology, and physiology of mandibular movements.
Use oral, non-verbal, and written communication skills for effective professional interactions in the dental office or laboratory setting.
Function as a member of a diverse dental team demonstrating cultural sensitivity and no biases.
Be prepared to continue developing their dental, community and world awareness through attending conventions, lectures, and workshops as well as active participation in professional/non-professional organizations.
Apply ethical and legal principles to the dental laboratory workplace and apply regulatory considerations related to bloodborne diseases.
Demonstrate work practices and safety protocols that promote a safe environment.
Secure employment as an entry-level restorative dental technologist.
Successfully challenge the Recognized Graduate Examination (first step in becoming a Board Certified Dental Laboratory Technologist as granted by the National Board for Certification in Dental Laboratory Technology).
Be prepared to transfer to a college or university for upper level studies in the health fields.
---
Program Accreditation
The program is accredited by the American Dental Association's Commission on Dental Accreditation since 1961 and approved by the Dental Board of California. The program is designed to prepare students for the Dental Assisting National Board Examination for national certification as well as the Registered Dental Assistant Examination for state licensure. Additionally, the program is approved to offer the Orthodontic Assistant Permit (OAP) to qualified applicants that complete the RDA program.