Hate has
no place
at PCC.
Tolerance, like any aspect of peace, is forever a work in progress, never completed and, if we're as intelligent as we like to think we are, never abandoned.
Octavia Butler, PCC alumna 1968
"Pasadena City College will work to activate every member of our community to take a stand against racially motivated hate, intimidation, threats and violence."
Dr. Cynthia Olivo, Vice President, Student Services
Dr. Rebecca Cobb, Dean of Student Life
Dr. Kari Bolen, Chief Diversity, Equity, and Inclusion Officer
"The real power of any movement is how we work together with other social justice movements."
Dustin Lance Black, PCC Alumnus 1994
"The right of every American to first-class citizenship is the most important issue of our time."
Jackie Robinson, PCC Alumnus 1936
"One of the greatest things in life is that no one has the authority to tell you what you want to be. You're the one who'll decide what you want to be."
Jaime Escalante, PCC Alumnus 1969
Hate has no place at PCC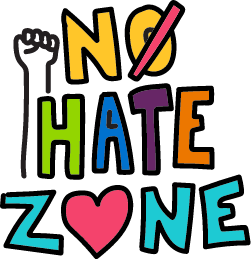 #stophate
PCC denounces hatred and violence in all its forms and is committed to humanity and social justice as an ongoing endeavor that we highly value.
Many organizations within PCC have passed resolutions or issued official statements condemning hatred.
In solidarity.