GeoTech Skills Certificate

---
Are you...
a student who wishes to acquire technical and topical knowledge to support your major or professional field?
a student who wishes to acquire specialized training to meet current (or future) job requirements calling for GIS knowledge?
spending hours looking at maps and Google Earth to better understand the world you live in?
Essentially, GIS is a framework to acquire, store, manage, analyze, and visualize spatial data. Traditional paper maps are able to display just one view of data, at one point in time. Using GIS allows the display of information in various space and time. GIS provides a suite of tools used to support many kinds of decision-making and statistical and spatial analysis. It is an applied discipline – a person does not simply "do GIS" but applies it to a variety of professional disciplines
---
GeoTech Program
The GeoTech Skills Certificate prepares students to apply GIS with a solid theoretical foundation. A diverse range of GeoTech Skills skills are covered including data capture, spatial & statistical analysis, modeling, and cartography.
The GeoTech courses take a practical, hands-on approach. Students will not only learn how to use a specific software; they will apply GIS using a variety of projects and methodologies. With a combination of lab exercises, individual projects, and a community-based, collaborative long-term project, students will learn how to plan, design, and execute GIS projects.
---
Courses
Geography 11 - Introduction to Geographic Information Systems and Techniques
Introduction to the fundamentals of geospatial technology including Geographic Information Systems (GIS) science and its applications to spatial data management. Participants will learn how to identify and acquire GIS data, assess vector and raster systems, apply scale, resolution, map projections, coordinate systems, use georeferencing, spatial analysis, modeling and Global Positioning Systems (GPS). This course is designed to compliment other disciplines or as an entry level course into a geospatial program. Total of 36 hours lecture and 54 hours of laboratory.
Transfer Credit: CSU; UC credit under review. C-ID: GEOG 155
Geography 12 - Spatial Analysis
Reinforce skills about the theory and application of GIS science. Develop working knowledge and skills necessary to conduct problem-solving and decision making using geospatial analysis techniques. Topics include discovering and applying the spatial relationships within and among spatial phenomena, buffering, overlay, map algebra, database management, and metadata standards. Total of 36 hours lecture and 54 hours laboratory.
Transfer Credit: CSU; UC credit under review.
Geography 13- Data Acquisition and Management
Introduces fundamental concepts of primary GIS data creation. Topics include quantitative techniques for collection, classification, management of geographical data, and interpretation of a variety of data formats in GIS. Total of 36 hours lecture and 54 hours laboratory
Transfer Credit: CSU; UC credit under review.
Geography 14 - Cartographic Design
Introduction to fundamental cartographic concepts. Design principles and creation of effective visual representations of data in different formats. Topics include ethical and appropriate application of map scale, map projections, generalization and symbolization. Total of 36 hours lecture and 54 hours laboratory
Transfer Credit: CSU; UC credit under review.
---
Roadmap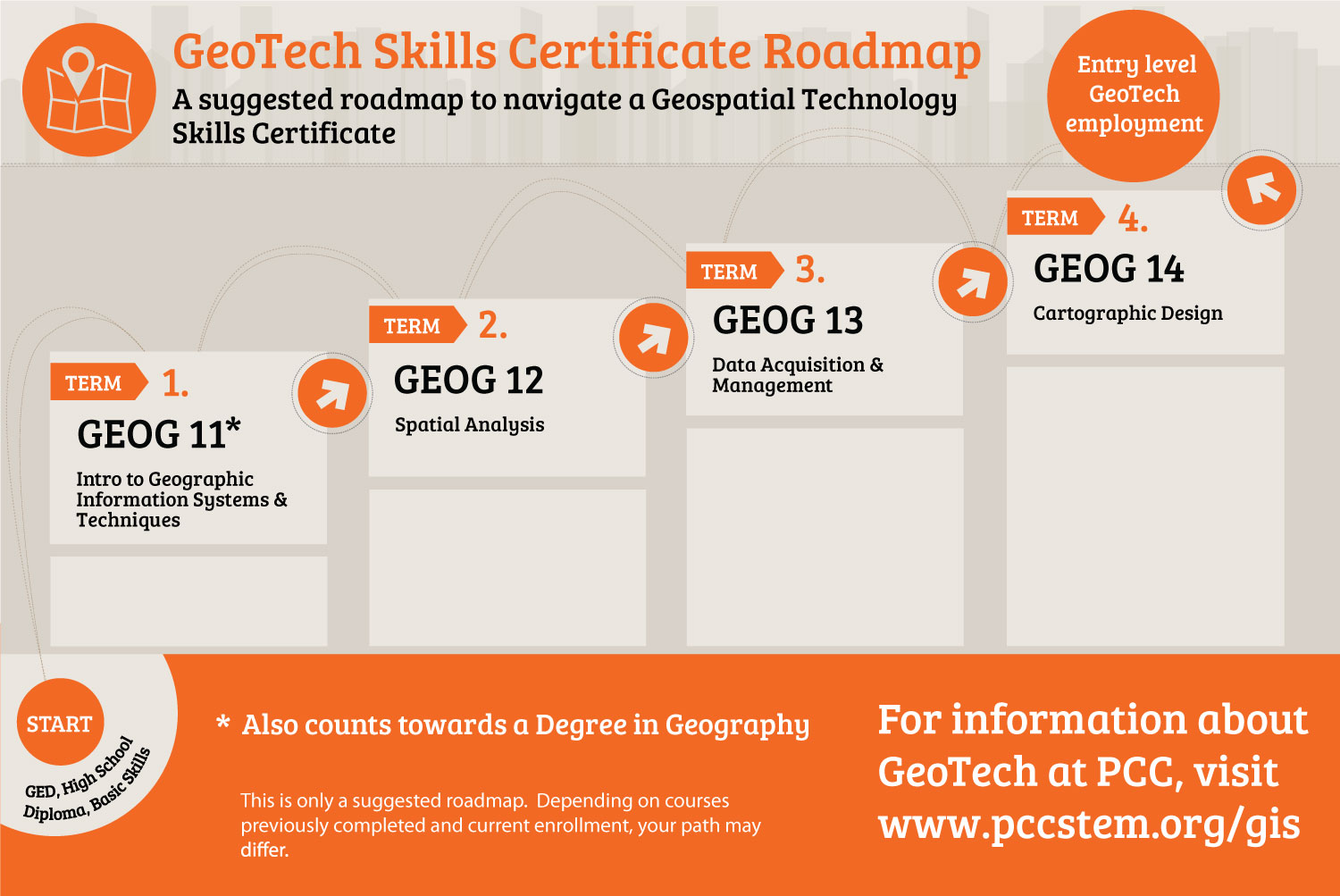 View Certificate Requirements Download Roadmap
---
Job Market
GIS related jobs is an emerging industry and one that should experience higher than average employment growth over the next 10 years. Geographers with GIS experience or knowledge have the strongest job outlook, especially with government, business, local municipalities, real estate developers, utilities, and environmental consulting. There will also be an increase in job opportunities requiring GIS skills and technologies in areas such as emergency assistance and other non-traditional areas.
Click on on a job title below to learn more information such as average salaries, employment rates and growth rates for GIS related careers.
---
More Information? Contact Us.
Brennan Wallace, Office: E204
bwallace1@pasadena.edu or (626) 585-7632