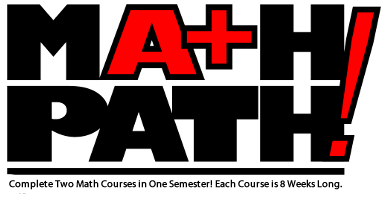 So much math, so little time. Does it seem like there is no end in sight to your math classes, and there is so little time to complete them all? Are you concerned about just not "getting it?" Now there's a solution. Take Math Path!
---
Why Math Path?
Complete TWO full semesters of math in just ONE semester
Concentrate on success in math
Be a part of a community of fellow classmates and get through it together
The Math Path Commitment
Math Path is a great option to accelerate your math coursework, but it's not for everyone. In order to take Math Path you must be willing to:
Spend 20 hours per week outside of class time working on math
Arrive on time to EVERY class
Actively participant in class activities
Ask for help from your instructors, classmates and/or tutors
Help classmates understand concepts
Attend office hours when needed
Work 20 hours or fewer if you have a job outside of school
---
What People Say About Math Path
"I complained about the hour of the Success Skills class at first but after seeing how much I got done; now I believe that the students in the next Math Path should stay longer. That way they will be able to accomplish what I accomplished."
"By selecting this program I have improved my mathematical skills at a level that I never knew I could have otherwise."
"The teachers, volunteers, and tutors all support the students to reach their goals."
"It was fabulous to have hands-on measurement instruments, talks and discussions, about the way math can relate to our daily life in different forms and disciplines such as Biology, Geology, and Astronomy."