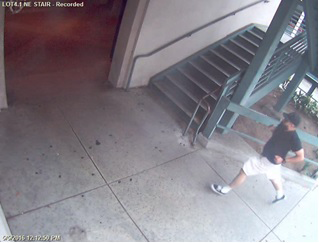 Suspect
Hispanic or Caucasian Male, approximately 5'6", approximately 180 lbs, last wearing a black baseball cap, black shirt, white shorts, dark shoes with white soles (possibly Vans), and a black wrist watch worn on his left hand. The suspect also had a dark, full beard.
Incident
On Thursday, May 5, 2016 at 11:45 a.m. the above pictured suspect was seen loitering in the women's restroom on the 2nd floor or the "R" building. When the victim confronted the suspect, he quickly ran out of the restroom and out of sight. Approximately 30 minutes later, the victim encountered the suspect near the Aquatic Center, which prompted the suspect to run away. The suspect was captured on surveillance cameras running into the lot 4 parking structure then exiting out onto Del Mar Blvd.
Please advise PCC dispatch if you observe anyone fitting the above suspect's description.
---
For further information contact Officer DeSpain at (626) 585-7484 or mxdespain@pasadena.edu