Redesigned, Reimagined, Rebuilt
---
In the summer of 2016, PCC launched a completely redesigned and reimagined www.pasadena.edu. We have a new look, new content, new functionality, new responsiveness, a new content management system, new information architecture... OK, you get the idea.

It took a lot of hard work from a lot of different people to bring this to fruition. Before we get into the details on the new site, we want to thank everyone that helped and contributed to making this revitalized website a reality. The last major redesign was over 10 years ago and this was a major undertaking. Without all of your support and help, we could not have made this a reality.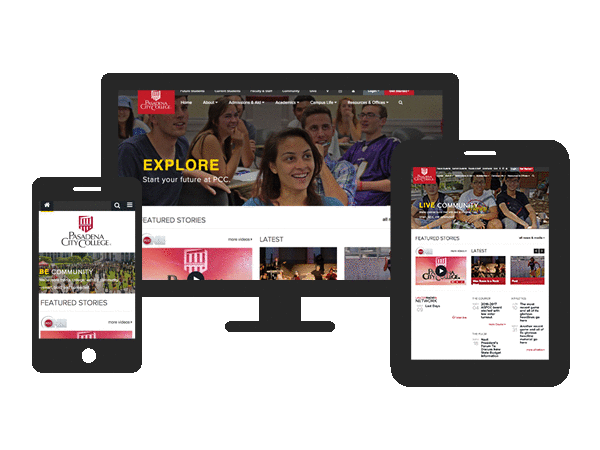 Why a Redesign?
By Spring of 2016, the www.pasadena.edu website had over 33,000 pages and documents, much of which were incorrect or out of date. In addition, the site itself was was using outdated technology, requiring a patchwork of fixes to keep it afloat. Moreover, the site was not keeping pace with modern, mobile-friendly browsing habits.
We rebuilt, redesigned, and rethought the online presence of PCC from the ground up. Our goal was to create a better experience and make it easier for you to find and use information online.
New Information Architecture
Information architecture in its simplest explanation is the practice of deciding how to arrange the parts of something to be understandable. We met with nearly every department and entity on campus, including students, faculty, administrators, staff, and our neighbors to better understand how the school is structured and how that relates to finding things on the web. In the end we created the first information architecture for www.pasadena.edu — easier to navigate, easier to understand, and easier to know where something belongs.
New Design
With the redesign we took a mobile-first approach — meaning we designed for a mobile experience first, then worked toward tablet, laptop and desktop experiences. This helped us maintain focus on simplicity and necessity. We designed and developed a new visual style guide for the website from the ground up, creating a modular system that is flexible and can easily be extended and redesigned in future iterations.
New Content
Keeping in sync with our mobile-first attitude, we worked with nearly every entity on campus to improve consistency of information by simplifying and rewriting content. Prior to embarking on rewriting the content, we developed a style guide to help create a consistent voice and tone.
New Content Management System
Goodbye Contribute, say hello to OmniUpdate. OmniUpdate is a centralized online content management system geared specifically towards universities and schools with built in tools for accessibility checks, forms, and news, and a simple editor interface. Plus, it's extendable and expandable, which means additional functions and tools could be added easily after launch.
New Apps, Integrations, and Functionality
During the redesign, we evaluated every tool and integration that is part of the website and asked how we can make them better and more sustainable in the future. We have a few new apps and integrations that have launched with the new site, including Directory, 25Live Calendars, Document Management, and Governance to name a few.
---
Timeline
We will be starting training beginning in the Fall of 2016 with continued training and resources thereafter. PCC faculty and staff should look for further information in the weeks directly after launch.
Again, thank you to everyone that contributed and helped throughout this process. The web is ever-evolving and changing, and with this redesign, we will be better equipped to maintain pace. Happy browsing!
---