Natalie Bookchin:
Speech Network
Pasadena City College presents Speech Network, an online exhibition of media artworks by internationally recognized artist Natalie Bookchin. Since the 90's, Bookchin's work has explored how new technologies critically engage contemporary political, media and internet cultures. Educated as a photographer, her work embraces a new context for image culture, functioning less as unique works of art, and instead as an endless archive of data that can be recontextualized to examine ideas in our networked culture.
The exhibited works focus on Bookchin's strategy to create collective stories by editing together a number of first-person accounts about themes like race, poverty, protest, and identity. As our community has adapted to social distancing and online learning, we have become familiar with the grid of talking images. Bookchin's work helps us reconsider the video grid, making it a place of collective voice, solidarity and resistance in a time of shared isolation.
More information about the artist's work is available on her website.
Long Story Short
TRT 40 min
2016
Long Story Short is a film made from an archive of interviews with over 100 people at homeless shelters, food banks, adult literacy programs, and job training centers in California. The large majority of the interviews were made here in Pasadena at the Union Station Homeless Services, and reflect the lives of people living in the community served by PCC. In the archive of interviews, the subjects recount their experiences with poverty: why they are poor, how it feels, and what they think should be done about poverty and homelessness today. Bookchin stitches together these interviews to form a polyphonic account of the experience of American poverty told from the inside.
The below sequence is a 6 minute excerpt of the 40 minute feature. A copy of Long Story Short has been donated to the PCC Library Art Collection and can be viewed on request.
Testament
Laid Off (TRT 4 min) / My Meds (TRT 1 min) / I Am Not (TRT 3:30 min)
Predating the film Long Story Short, Testament is a series of videos and multi-channel sound and video installations that present collective portraits of the shared self. These works were created by mining YouTube videos of individuals talking about their personal experiences publicly on the internet, and editing them together into cohesive linear narratives on unemployment, pharmaceuticals, and sexual identity. The series reflects on the peculiar blend of intimacy and anonymity and on the simultaneous connectivity and isolation of contemporary networked social relations. Exhibited here are three video shorts: Laid Off, My Meds, and I Am Not.
The Act of Changing Something's Position
2020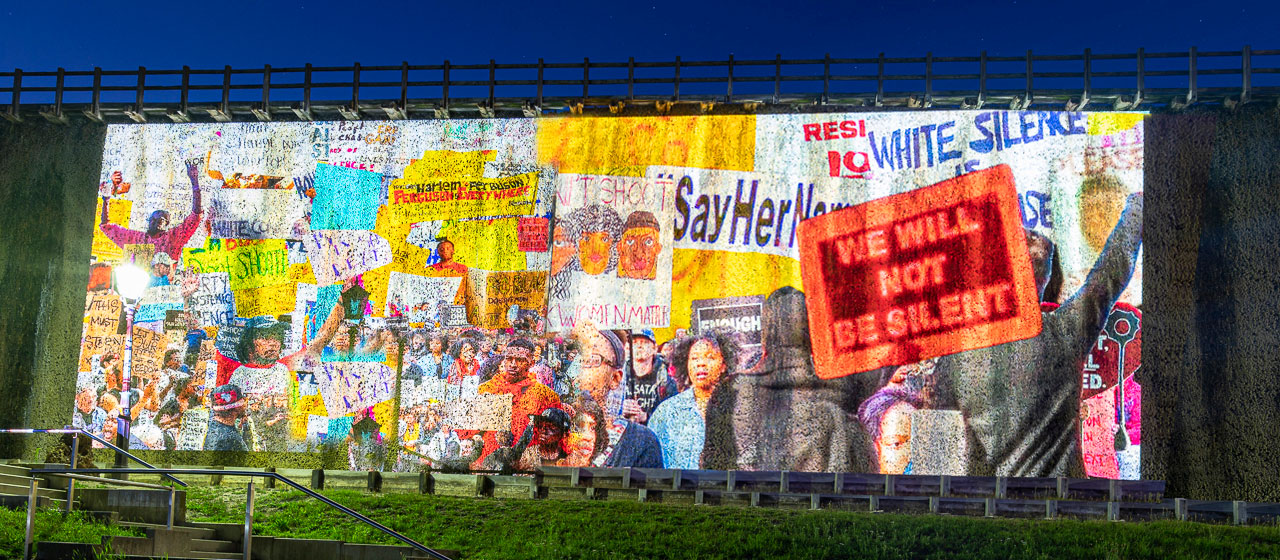 The act of changing something's position reanimates an archive of hundreds of videos of uprisings shared and circulated on the internet. The slow-moving, looped projection depicts movement in one place as a performance of staying put, "standing ground", and occupying space, even when in our current reality, the state demands dispersal and disappearance. Protesters perform and re-perform, enact and re-enact, black-led resilience and resistance in the face of systemic violence against Black Americans.
**This work will be presented as a site specific project on the PCC campus in the Fall semester. The exhibition image is from the installation at the Lichtsicht Triennial in Bad Rothenfelde, Germany.