Elliott Hundley: Coloratura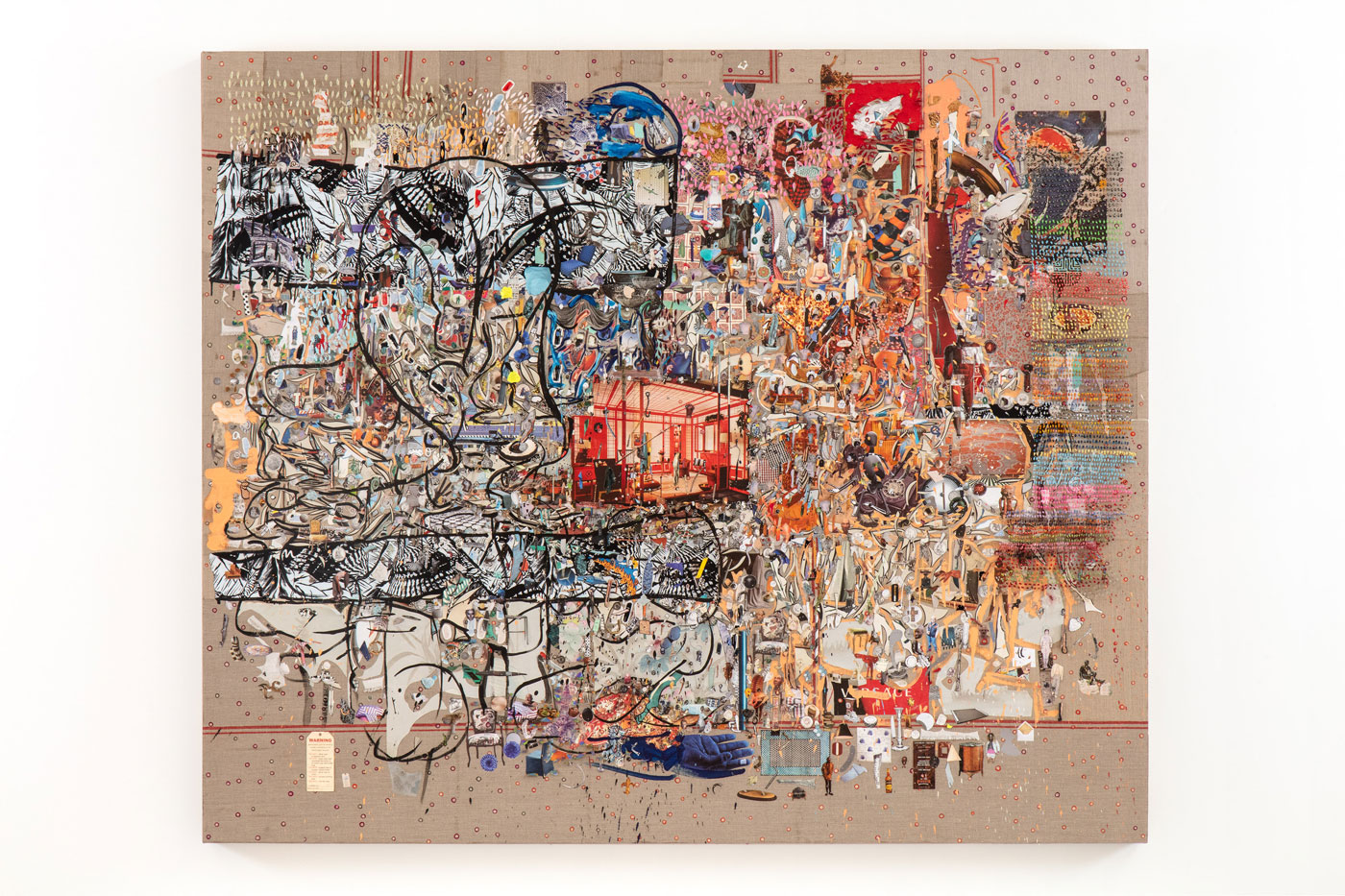 Clearing V
, 2019 Paper, fabric, encaustic, plastic, pins, photographs, foam and linen on panel 72 1/2 x 86 1/2 x 4 in (184.2 x 219.7 x 10.2 cm)
© Elliott Hundley, Courtesy Regen Projects, Los Angeles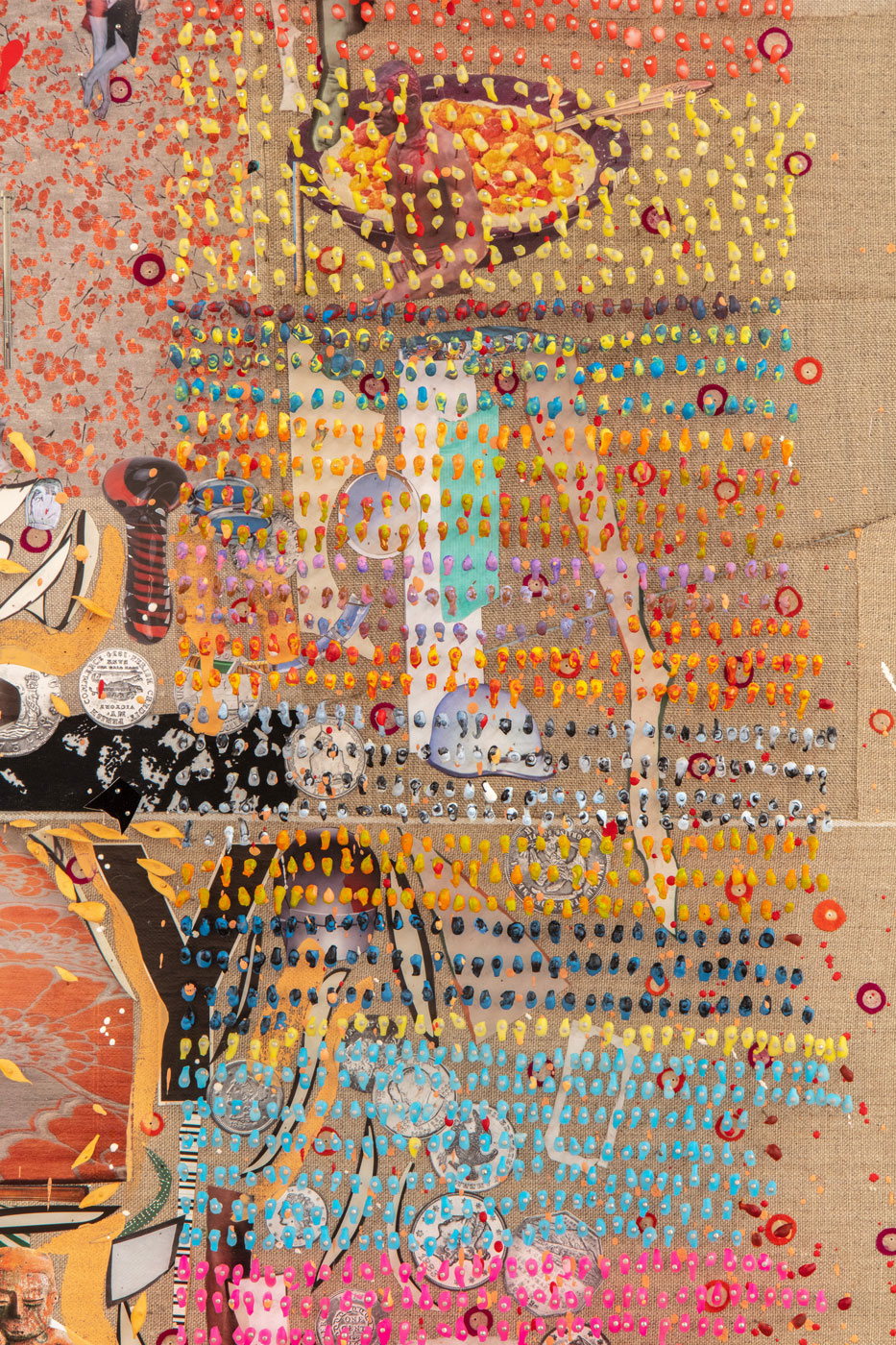 Clearing V (detail), 2019 Paper, fabric, encaustic, plastic, pins, photographs, foam and linen on panel 72 1/2 x 86 1/2 x 4 in (184.2 x 219.7 x 10.2 cm)
© Elliott Hundley, Courtesy Regen Projects, Los Angeles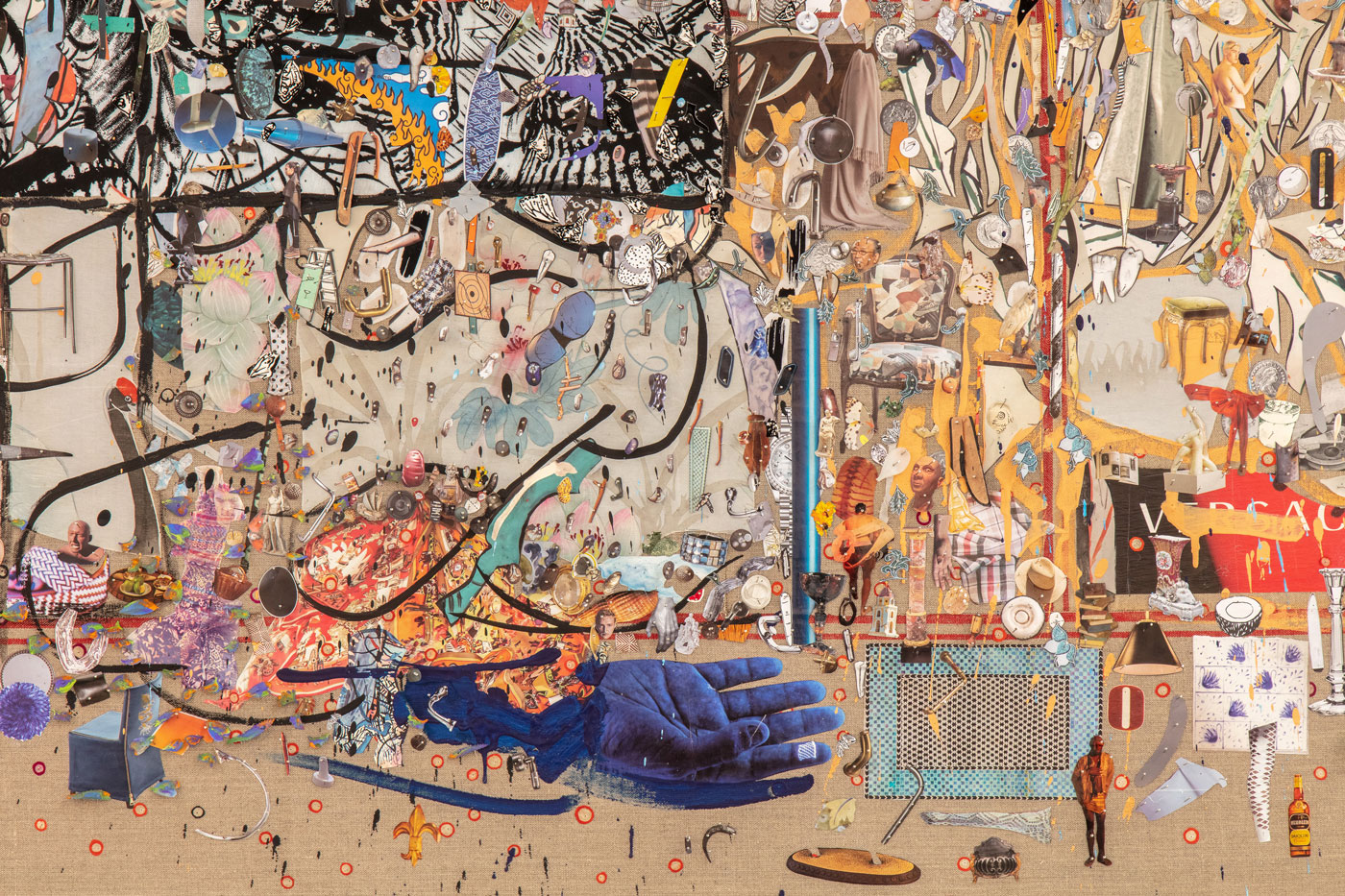 Clearing V (detail), 2019, Paper, fabric, encaustic, plastic, pins, photographs, foam and linen on panel 72 1/2 x 86 1/2 x 4 in (184.2 x 219.7 x 10.2 cm)
© Elliott Hundley, Courtesy Regen Projects, Los Angeles

Curatorial Statement
---
One of the most highly regarded contemporary artists coming out of the United States, Elliott Hundley has achieved international acclaim for his emphatically unique works. Often described as the heir to the Rauschenberg legacy, Hundley collects his art materials from life, re-orchestrating his menagerie of lost heirlooms and repurposed discards into profoundly monumental works redolent with personal histories, embodying an aura of statuesque presence. The humble cast-offs have been rehabilitated through his astute eye and caring sensibility into regal sublime.
Hundley conjures. A maestro orchestrating countless fanciful and overlooked detritus, he reanimates these remnants, infusing them with operatic esoteric elegance. Functioning like a cross between Dr. Frankenstein and Professor Henry Higgins, Hundley reeducates this unruly fodder into a refined, rarefied brilliance coaxed out of the rough and tumble cast-offs of late capitalist consumerism. It's nothing short of alchemy.
Though a still piece, there is a sense of time elapsing. Panel fragments abutted in irregular gridding and off-kilter armatures subset the narrative into scenes, continuous acts that unravel the storyline in bits and pieces, revealing the emotional underpinnings of the Greek tragedy from which the project springs.Celebrating imperfections, Hundley tears apart, restructures and repairs with careful attention to locate something transcendent out of the ordinary. With the impractical optimism of a great impresario, Hundley cobbles from these rescued survivors of contemporaneity a make-shift elegance. Embracing risk with great bravado, Hundley boldly pushes asymmetry's teetering balance while simultaneously investing meticulous attention to intricate detail that glitters like the acrobatic tremolo of the coloratura.
The works are populated by innumerable small fragments and shards that, like us as individuals within a vast social structure, contribute to its entirety. Every small detail plays a role in the maestro's symphony. This careful patient work of accretion is not to be confused with fussiness. The work does not try to be precious. It is monumental and earnest. The work sizzles and languishes like a grande dame after Mardi Gras.
This exhibition aspires to offer a sampling of Hundley's works in hopes to provide a glimpse into the creative evolution of this unparalleled creative mind.
Mahara Sinclaire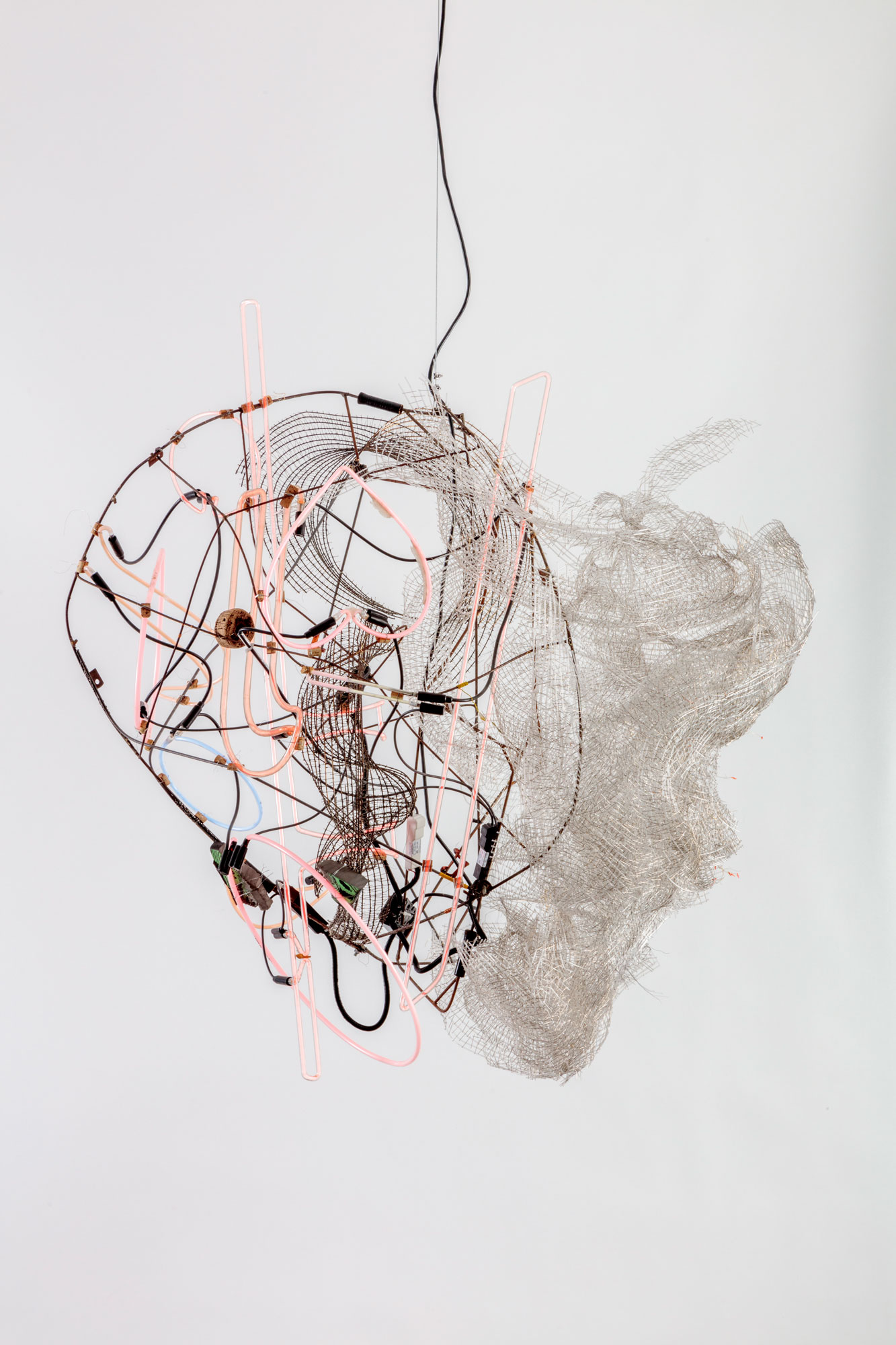 Mask
, 2016 Plastic, pins, metal, neon and cork 67x 63 x 56 3/4 in (170.2 x 160 x 144.1 cm)
© Elliott Hundley, Courtesy Regen Projects, Los Angeles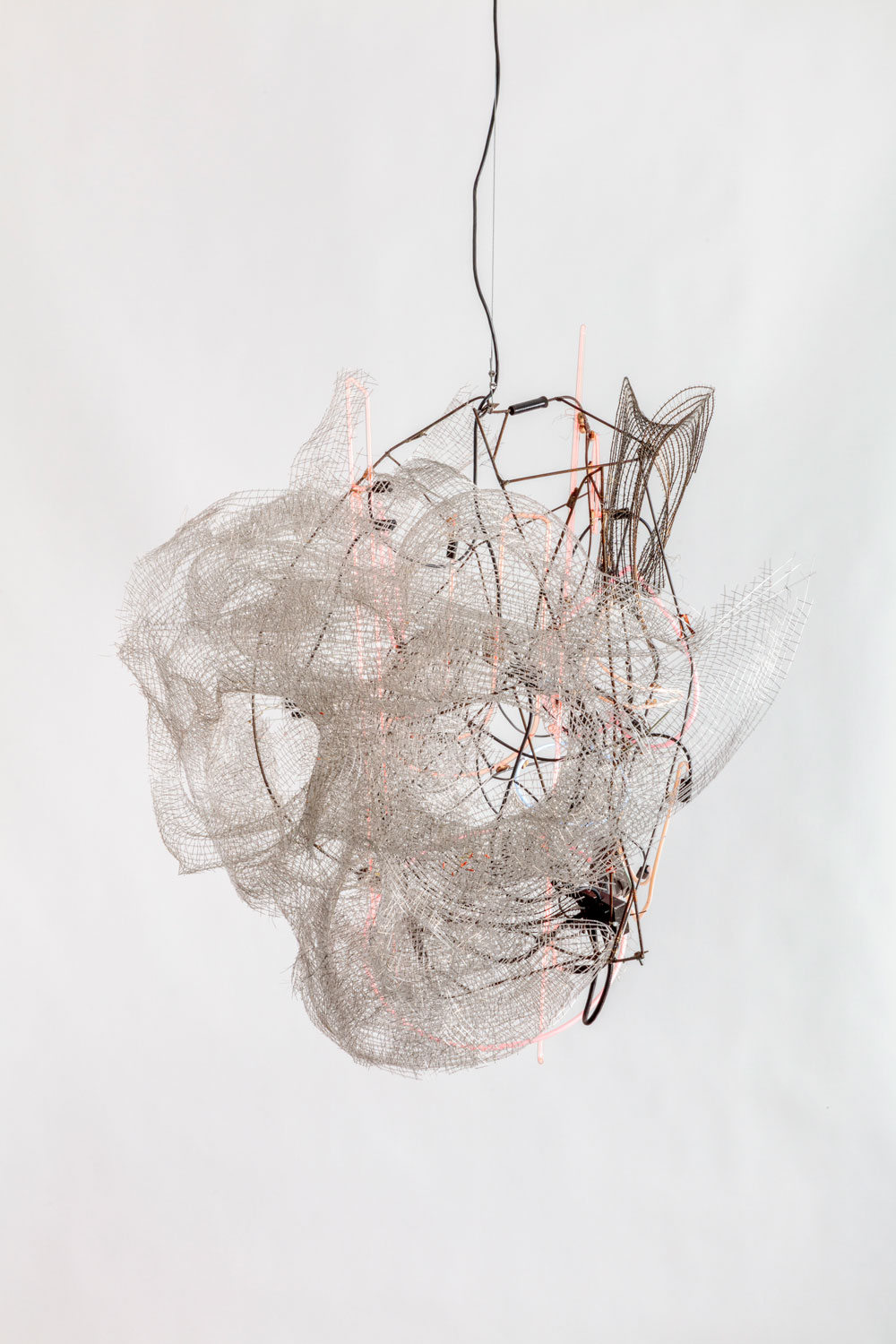 Mask,
2016 Plastic, pins, metal, neon and cork 67x 63 x 56 3/4 in (170.2 x 160 x 144.1 cm)
© Elliott Hundley, Courtesy Regen Projects, Los Angeles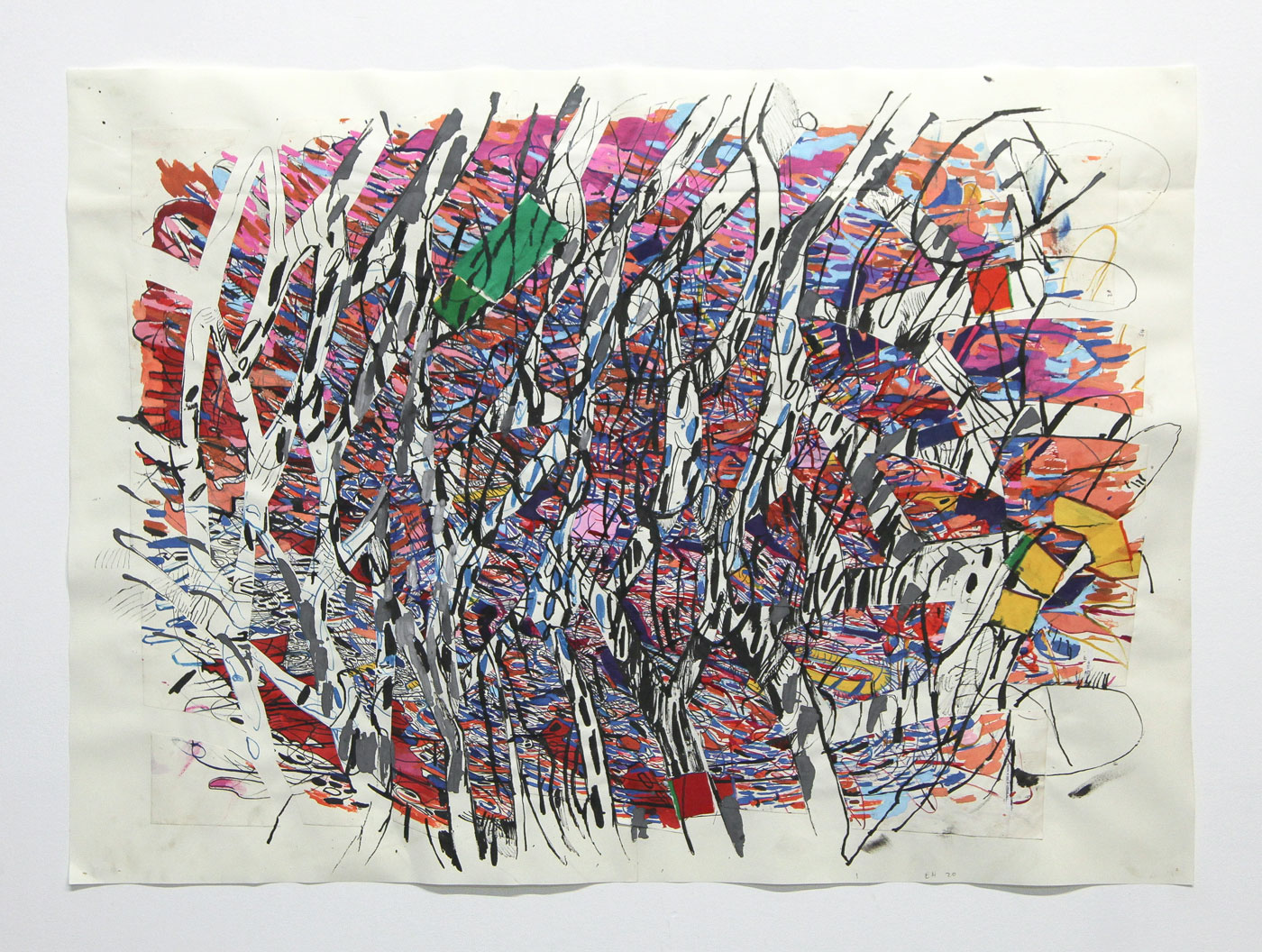 15.12.20.2
, 2020, Ink , fabric and collage on paper 19 7/8 x 27 1/4 in (50.5 x 69.2 cm)
© Elliott Hundley, Courtesy Regen Projects, Los Angeles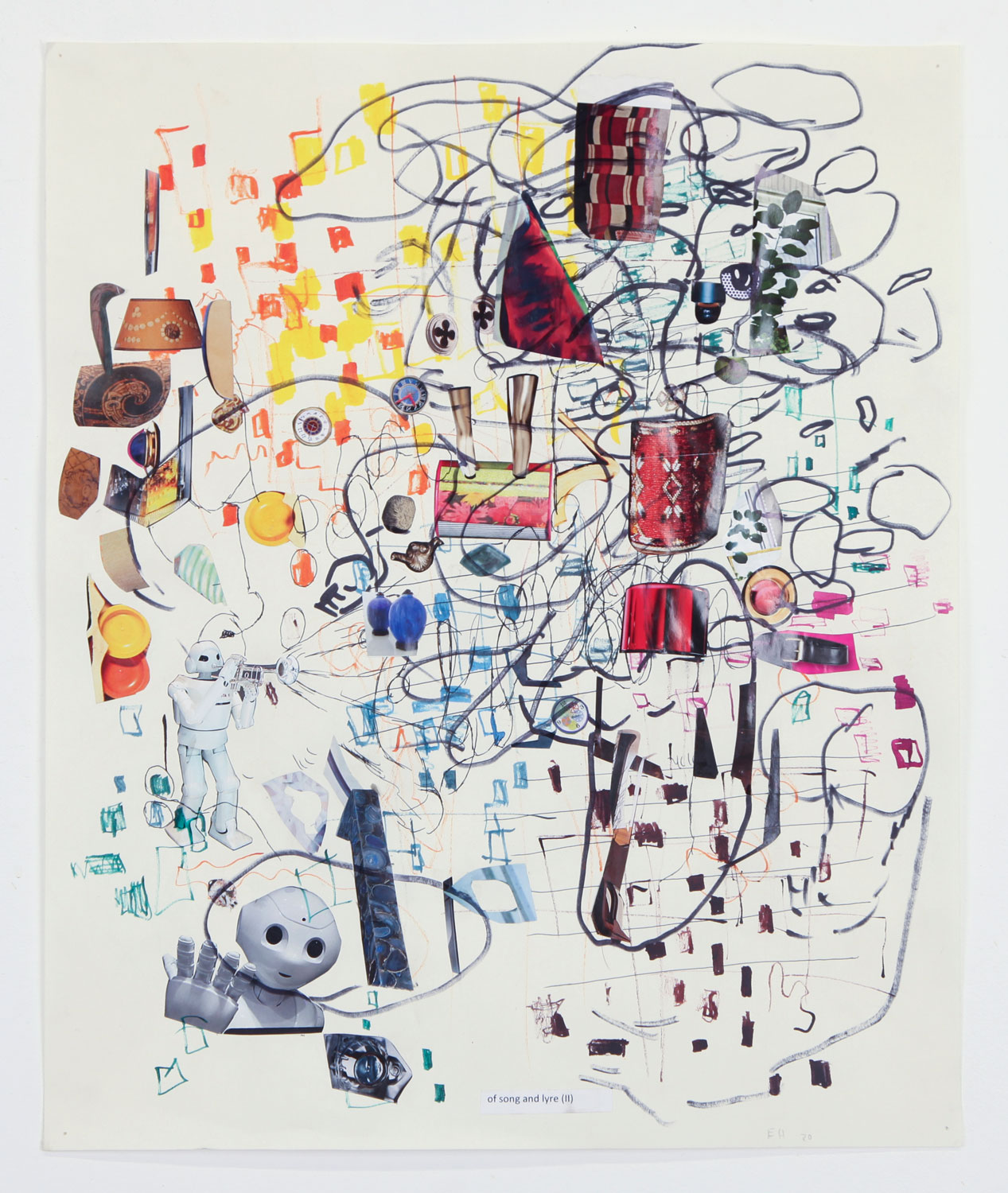 of song and lyre, 2020 Ink and collage on paper 17 x 14 in (43.2 x 35.8 cm)
© Elliott Hundley, Courtesy Regen Projects, Los Angeles
Elliott Hundley: Coloratura
---
The art of Elliott Hundley could in one word be best described as an anomaly. Eccentric and extraordinary accumulations of images, materials, textures and ideas, his works defy any conventional sense of space or category. Crossing sculpture, painting, collage and assemblage, his intricately rendered works assimilate innumerable disparate elements into awe-inspiring objects and surfaces teeming with stimuli. They are at once arresting and trance-inducing, dynamic and exuberant. Expanding to the scale of the monumental, encompassing or confronting the viewer like an architectural façade or proscenium, Hundley's works can often overwhelm. Just as impactful, however, is their gravitational pull, their capacity for drawing the viewer in, provoking closer inspection of the infinite minutiae as clues to their mysteries. Coloratura, the first exhibition to focus intently on Hundley's works on paper, allows us to indulge in the latter such activity, providing an opportunity for a more intimate view of the artist's oeuvre.
Hundley's works on paper—embellishments of ink, graphite and oil stick mingling among morsels of his own elaborately staged photographs and various other color-saturated sections of paper and fabric—are modest by comparison to his often large-scale, material-laden paintings and sculptures. Created as studies or sketches, they are indeed layered, but not to the level of density achieved by his larger works. Although such qualities may suggest notions of "less," the works on paper afford a generous alternate view of the artist, his process, methodology and his preoccupations.
Inklings of the artist's preoccupations may be found in the form of clippings from texts by Bertolt Brecht, Antonin Artaud, even Euripides, that are embedded into several of the works in the exhibition. Indeed, writers of plays and other matters of the stage have figured prominently throughout the artist's oeuvre. One, of song and lyre (2020), derives from Rainer Maria Rilke's Sonnets to Orpheus (1922). Unlike other sonnets of the period, Rilke's were not about love for another, but for the world and seemingly everything in it. As such they rejoice in things considered as seemingly trivial as mirrors, fruit and breath. Hundley's works are similarly embracing, celebrating the matter of every day, processing and condensing it into a poetry all his own.
The allusion to a sonnet, deriving from the Italian sonetto, a diminutive of "sound," inferring rhyme and tone, also calls to mind another preoccupation of Hundley's: music. The artist has based works on operas and described his own work as "energetic" to the degree of being "noisy." It is quite easy to imagine sounds rising and fading through visual cues and references in his works, varying in intensity and affecting a range that can extend from harmonic to cacophonic. Synesthesia, the condition of heightened stimulation wherein one may actually see music as colors, is another sensation that interests Hundley. It hovers beguilingly within reach, prompted not just through his use of color, but also through line, juxtapositions and composition.
Hundley thinks with his hands, and it is the artist's hand that, in the works on paper, is emphatic. Ink is vital, rendered in unpredictable ways, ranging from the illustrative to the lyrical. Not far from his hand is his sleeve, on which he unabashedly brandishes, or rather freely cites, his reverence to the legacies of Robert Rauschenberg and Cy Twombly. While it is Rauschenberg, the more recognized of the two, to which Hundley is most often compared, it is the spirit of Twombly that presciently lingers in these works on paper. The latter's distinctive use of automatism, the automatic form of drawing introduced by painter André Masson and fostered by poet André Breton in his Surrealist Manifesto, is recalled especially in the black inks Hundley utilizes. Ink is manipulated freely, often through the use of a toothpick, powered by an intuitive process. Bound as they may be to historical and cultural precedents, the sense of spontaneity in these drawings is distinctive and alert.
The works on paper in Coloratura were produced in the aftermath of Hundley's last solo exhibition, Clearing, held at Regen Projects in 2019. Conceived as an alternative survey, the artist culled the mass of treasured scraps and images saved throughout his twenty-year career; a process that also, for Hundley, became a way of freeing himself from the weight of the past, a metaphoric albatross. Among the multitude of sources from which he draws, personal history also provides regenerative fodder for the artist, who cuts up drawings he considers unfinished, only to incorporate their fragments into new works. Such an exercise is manifest in 15.12.20.2 (2020), where the spliced shards of one drawing appear to have shattered over another. The drawing underneath becomes the mortar or connecting tissue of the former work's disparate parts. Just one of many captivating acts that may be discerned in Hundley's multifaceted, multidimensional works, it is part of the immense pleasure in focusing on these rarely seen and fundamental works.
Julie Joyce
Artist Biography
---
Elliott Hundley (b. 1975 Greensboro, North Carolina) received his BFA from the Rhode Island School of Design, Providence in 1997 and an MFA from the University of California, Los Angeles in 2005.
Hundley's practice integrates photography, painting, collage, sculpture, performance, and drawing. Utilizing a myriad of diverse materials, he creates sculptures that hang from the ceiling, extend off the wall, or exist as freestanding objects. Mining the nostalgic and diverse qualities of his eclectic and quotidian materials, Hundley melds the familiar with the foreign in a layered and translucent world. These precarious, intricate, and multi-layered works are composed as a web of interconnections that create a wondrous and fragmented tableaux. Each artwork is an investigation into the material process and the resulting formal tension and visual narrative that unfolds.
The surfaces of Hundley's works are built-up and composed from hundreds of elements including photographs taken during elaborate photo shoots. In these shoots, nude or semi-clothed sitters are adorned with jewelry, paint, or tunics and clutch various props. The figures are then cut out of the photographs (to erase any trace of recognizable time and location) and collaged to the surface of his works. These figures serve as focal points and illustrate the importance of both figure and landscape in his pieces. The intense physicality of Hundley's work juxtaposed with incongruous scale and a disjointed aesthetic creates a formal distortion and friction emblematic of his practice.
Hundley's work is a journey into history, mythology, and contemporary culture. His epically dense surfaces are laced with historical references and mythological narratives. Hundley culls fragments from ancient mythology to fuel obscure and mysterious visual dramas that unfold on the surface of his sculptures and present a dialogue between classical antiquity and the relics of modernity. His works communicate an abstract series of events that adhere to a chronology all their own. The coalescence of Hundley's own personal and symbolic world with contemporary and ancient cultural references and signs creates a highly personalized visual language in his work.
He had his first solo exhibition at the Hammer Museum, Los Angeles in 2006. In 2011 a major exhibition entitled Elliott Hundley: The Bacchae was on view at the Wexner Center for the Arts, Columbus and traveled to the Nasher Sculpture Center, Dallas. He was recently included in the 7th Moscow International Biennale of Contemporary Art, 2017 – 2018, and this fall he will participate in the 5th Prospect New Orleans triennial, Yesterday You Said Tomorrow, (October 23, 2021 – January 23, 2022). In 2019, he was the inaugural curator of Open House, a group exhibition at the Museum of Contemporary Art, Los Angeles that featured works drawn from the permanent collection.
Hundley is a recent recipient of a John Simon Guggenheim Memorial Foundation Guggenheim Fellowship (2019).
His work is included in the permanent collections of many museums, such as the Hammer Museum, Los Angeles; Istanbul Museum of Modern Art, Istanbul; Los Angeles County Museum of Art, Los Angeles; Louisiana Art Museum, Denmark; Museum of Modern Art, New York; Nasher Sculpture Center, Dallas; Solomon R. Guggenheim Museum, New York; Walker Art Center, Minneapolis; Whitney Museum of American Art, New York; among others.
He lives and works in Los Angeles.
---
About the Pasadena City College Artist in Residency Program
Pasadena City College launched an ambitious program in 1987 that brings prominent artists for a week-long stay on campus, where the artists interact closely with students, faculty, and the larger campus community. In the current remote context, Elliott Hundley will be online resident the week of March 22nd through 29th 2021. He will engage students through a remote critique, lecture, and intimate studio visit, offering his experience of life as a professional artist. Throughout the history of this program, PCC has hosted celebrated artists such as Tim Hawkinson, Marnie Weber, Kori Newkirk, painters Masami Teraoka and Wayne Thiebaud; installation artist Alexis Smith; quilt maker Faith Ringgold; eco-political art collective Future farmers; illustrator and "futurist" Syd Mead, and photographer William Wegman, each of whom also donated works of art to the college. These works are displayed in the college's Shatford Library and Boone Sculpture Garden.
This exhibition and residency are made possible by the generous support of the Pasadena Art Alliance, as well as the Pasadena City College Student Services Fund, Office of the President, Pasadena City College Foundation and the Visual Arts and Media Studies Division.