2017 Exhibition Dates and Events
Feb. 21 - April 14: The exhibit runs. Visit The Galleries at PCC during Open Hours.
Friday, March 10, 6-10pm: Reception, Pasadena ArtNight (tentative date, to be confirmed)
March 20-24, 2017: Artist in Residence week
Mon, March 20, 2017, 7:00pm: Artist lecture, reception to follow in Boone until 9:00pm
Friday, March 24, 2017, 12:00-1:00pm: Closing reception/ gift presented to college
About "The Spirit of Invention"
Tim Hawkinson is recognized internationally for his unsurpassed and uncanny creativity. Mixing high tech and low tech in unexpected confluence, his resulting artworks are a wonder of creative ingenuity. Because of his remarkable spirit of invention and the wonderfully unpredictable outcomes of his inquisitive postulations, Tim Hawkinson is an inspiration, modeling creativity as a playful dance with life itself.
This exhibition of Hawkinson's work offers a sampling of artworks throughout his career, in hopes that the viewer may witness this ongoing thread of creative genius, this unexpected, serendipitous pairing of high and low that marks Hawkinson's innovative process of discovery.
Biography of Tim Hawkinson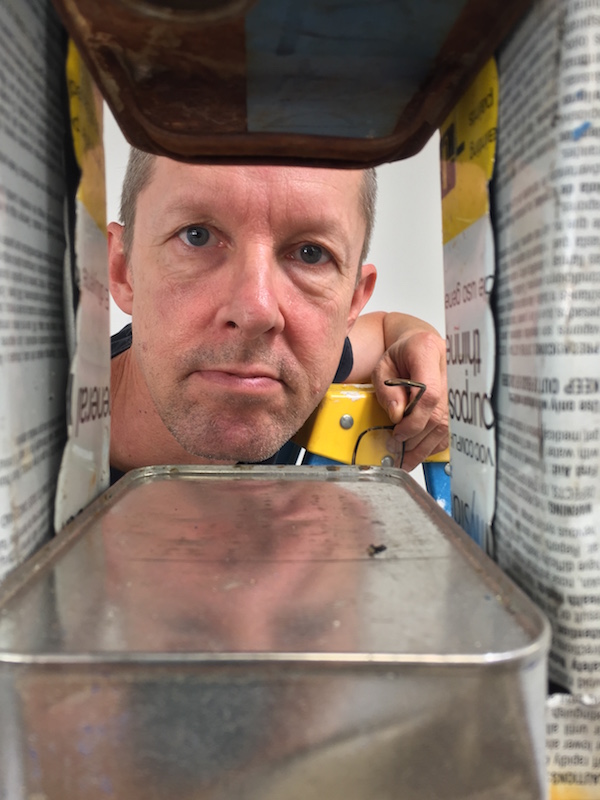 Tim Hawkinson's (b. 1960, San Francisco) idiosyncratic creations are meditations on nature, machines, mortality, the body and human consciousness. Since the 1980s, the artist has used common found and store-bought materials, handcrafted objects, and machines to shift familiar subject matter off-kilter, creating visual conundrums and conceits imbued with deeper meaning. His inventive works range in size from monumental kinetic and sound-producing sculptures to almost microscopic pieces created from such unassuming materials as fingernail clippings and eggshells. Driven by ideas, materials, and an interest in transformation, Hawkinson continues to create unlikely and thought-provoking associations by transforming common materials into works of art. Hawkinson received a Guggenheim Fellowship in 2015.
About the PCC Artisit-In-Residence Program
Pasadena City College launched an ambitious program in 1987 that brings prominent artists for a weeklong stay on campus, where the artists interact closely with students, faculty, and the larger campus community. In addition to his exhibition in the Boone Family Art Gallery, Tim Hawkinson will spend the week of March 20 through 24 on campus, during which time he will present a public lecture and meet with PCC students in the classroom. Through this program, PCC has hosted celebrated artists such as painters Masami Teraoka and Wayne Thiebaud; installation artist Alexis Smith; quilt maker Faith Ringgold; eco-political art collective Futurefarmers; illustrator and "futurist" Syd Mead, and photographer William Wegman, each of whom also donated works of art to the college. These works are displayed in the college's Shatford Library and Boone Sculpture Garden.
This exhibition and residency are made possible by the support of the Pasadena Art Alliance, the Student Services Fund, the Office of the President and the PCC Foundation, and the Division of Visual Arts and Media Studies