More African American students graduated from PCC this year than in the previous two years, reversing a decline in achievement and highlighting the impact felt through a number of programs targeting the student population, a new data analysis shows.
The college's 84 African American graduates in the 2017-18 academic year represented an increase of 15% over the previous year's tally. Only one year in the last decade has seen a larger number of African American students complete their studies at the college.
The college community celebrated these students and their achievements at two major events earlier in the month, beginning with the Black Graduation Ceremony in early June and culminating in last Friday's Commencement Ceremony.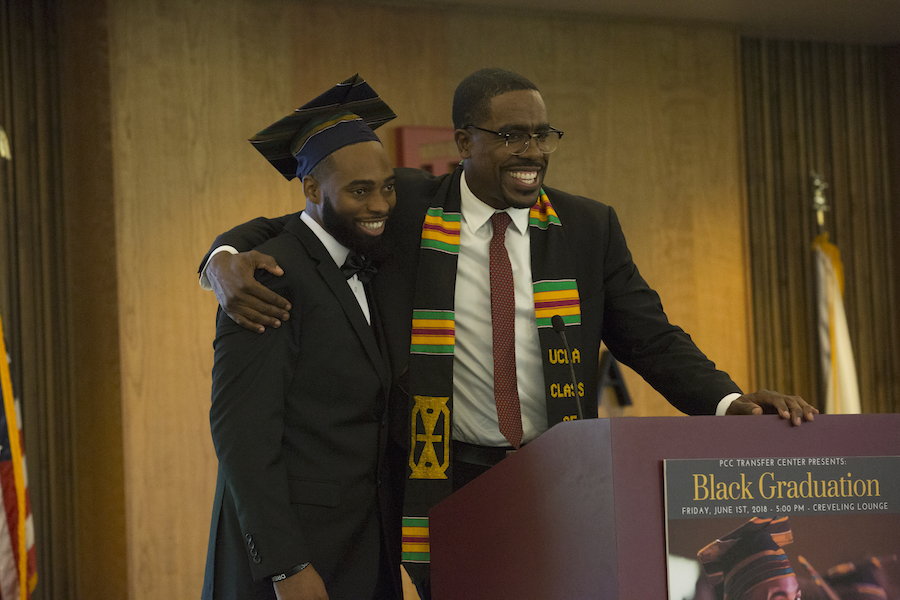 Students and their families packed the seats in Creveling Lounge for the fourth annual Black Graduation Ceremony June 1. The celebration highlights the achievements of the graduating class, showcasing the ways they have enriched their social, cultural, and educational lives.
Attendees heard from William Johnson, the graduating captain of the PCC men's basketball team. Although Johnson will be completing his bachelor's degree at Biola University this fall, as a student he struggled to afford housing for himself and his two-year-old son, eventually living in five different places during his time at PCC. Johnson spoke of the support he received from his professors, friends, and family as he completed his associate's degree.
As a transfer student, Johnson will be joined by a range of students engaged in PCC's Ujima program, which offers academic and social support to African American students. Ujima graduates will transfer to UCLA, USC, UC Santa Barbara, and the California State University campuses in Long Beach, Northridge, and Los Angeles, among others.
Many of the graduating students found echoes of their own stories in remarks made by the guest Commencement speaker, Shaun Harper, who is a professor at the USC Rossier School of Education and director of that university's Center on Race and Equity.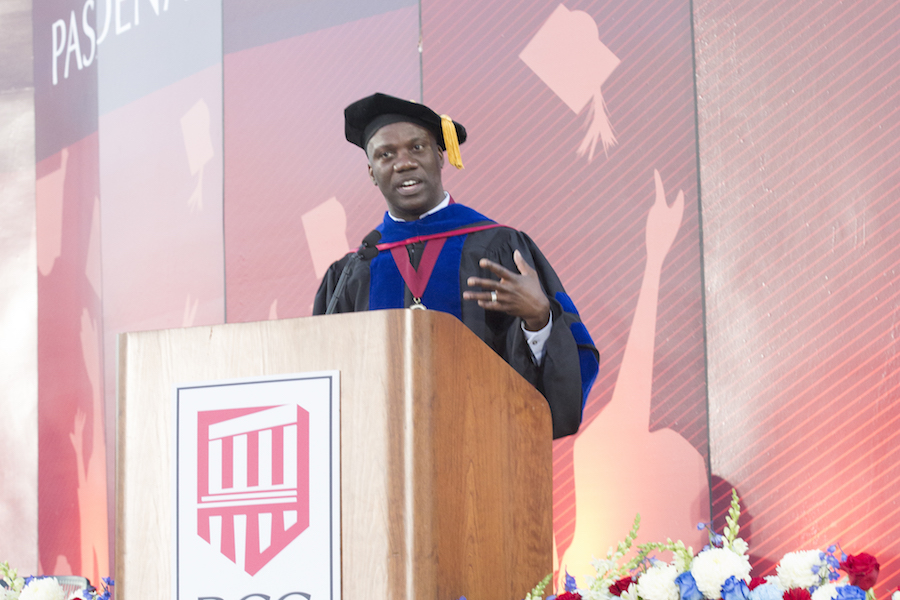 In his speech, Harper focused on the challenges he faced as he ascended to be one of the world's foremost experts in education and ethnicity. He said the chances that come with education "are the exact kinds of opportunities that my enslaved ancestors imagined as they were terrorized for more than 400 years in this country."
"My mother, who bore the disrespect from the rich white people whose homes she cleaned as a housekeeper in the 1980s, imagined that i would be here on this stage with you right now," Harper said. "In fact, she worked hard for it on her hands and knees to ensure it."
Harper called on the graduates and their families to pay forward the dedication of his forebears so that future generations could realize the potential dreamt by their ancestors.
"Keep your eyes open for justice," he said. "Keep your eyes open for limitless possibilities."
---
PCC provides the ability to comment on our website as a means of promoting free expression of ideas. Posts that include profanity, hate speech, threats of violence, solicitations, or other similar content will be removed. The views expressed by commenters do not necessarily reflect the views of Pasadena City College.
---