Course Student Learning Outcomes
Course student learning outcomes are defined by faculty and recorded on the Course Outlines of Record in WebCMS and the Instructors syllabi. Faculty assess course SLOs and record the assessment data in eLumen. Departments document the improvements they make as a result of the course SLO assessment process in an Annual Assessment Report which is submitted to the Learning Assessment Committee on November 15th of each year.
Instructional Department Annual Assessment Report Format and Directions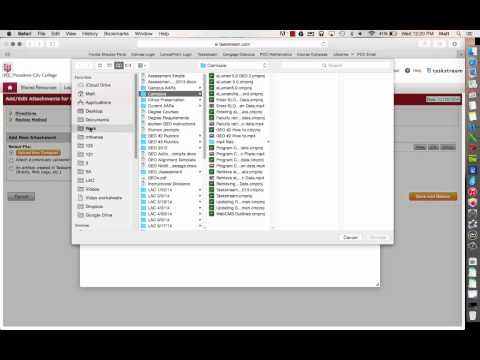 Create a numbered list for each assessment that you wish to include in the report. Please upload any relevant files (assignments, rubrics, etc.). For each assessment, include the following:
Course # and Title
SLO (including # and text)
Assessment: Describe the assessment.
Results & Analysis: Describe the results of the assessment and your analysis of what these results mean.
Recommendations for Improvement: Is student performance satisfactory? If not, how might student performance be improved? If there are multiple recommendations for improvement, what are the priorities? Some areas to consider for improvement:

Curriculum: adding/removing course content, changing pre-requisites, etc.
Pedagogy: change course instructional methods, assignments, etc.
Student support: tutoring services, advising, etc.
Faculty support: professional development
Revision of SLOs
QUESTION: How many assessment do I have to include in the annual assessment report?
ANSWER: It varies. If you are conducting an assessment that is complex and involves a large amount of faculty and scoring, then that may be the only assessment that you conduct in a given semester and report on. If you are not doing large scale shared assessments and you are reporting on the assessment of individual faculty members, then you will include more assessments.
Example (from CSU Bakersfield Chemistry Department):
CHEM 331: Concepts of Organic Chemistry I
SLO #2: Students will demonstrate the ability to evaluate and effectively communicate their results orally and in writing.
Assessment: Students have to write an organic chemistry lab report that adheres to the scientific standards established by the American Chemical Society (ACS) for the Journal of Organic Chemistry. The papers will be evaluated by the instructor using the attached rubric.
Results & Analysis: Of the 43 students that completed a lab report for the final CHEM 331 lab, only 30 (70%) received a score of 80% or higher. Two students did not submit a lab report.
Recommendations for Improvement: Introduce a peer review process in CHEM 332.
Example:
PHOTO 21: Elementary Photography
SLO #2: Students will recognize the technical qualities, cultural elements, and aesthetic values of their own and others photographic work.
Assessment: Faculty assessed students oral critique of photographic works in class during the second half of the semester using the Studio Arts Critique Rubric (attached). 7 of the 9 instructors took part in the assessment. Before the assessment occurred, faculty met and discussed the rubric to calibrate their scoring.
Results & Analysis: The Studio Arts Critique Rubric covers four areas: critical thinking, participation and ability to work in groups, vocabulary, and self-reflection. For this assessment, "self-reflection" was not assessed, as students were not talking about their own work. Students scored well in participation and ability to work in groups and vocabulary, with 75% of students scoring one of the two highest rubric scores for each trait. Only 35% of students scored in the top two rubric scores for critical thinking, however.
Recommendations for Improvement: Upon further discussion with the faculty, we realized that the department does not have a formalized structure for addressing critical thinking. The technical components of the course are clearly structured in the course outline of record, but the critical thinking elements are not. We will organize an extended meeting or retreat where we discuss: how we are teaching critical thinking in relation to photographic critique, which of these techniques are yielding the best results, and how to formalize these techniques across all sections. We will then update the course outline of record to reflect this and continue to assess student performance in regards to critical thinking to see if there is an improvement.