Foreign Language Lab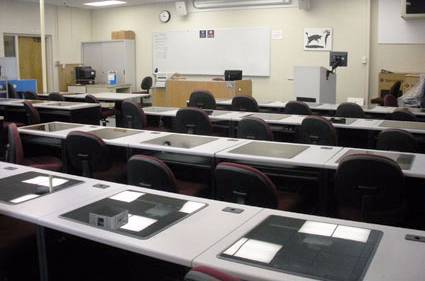 The Foreign Language Lab is open to faculty to bring their foreign language classes to further their learning experience with multimedia, Internet accessible workstations.
---
When using the lab, faculty may present various media to their classes via Smart console technology that is delivered to the student stations or project media or presentations to the screen via the Smart podium.
The classroom can accommodate up to 40 students. It is primarily scheduled for use by instructors during class time. A schedule for available times is posted beside the lab door after the second week of each semester.
---
Reserve the Lab
To schedule a time to bring your class to the Foreign Language lab and/or for any other requests, please contact the Languages and ESL Division at (626) 585-3187 or languages@pasadena.edu